This summer has been pretty boring. We really havent done much and the summer is almost over. I felt kinda bad for the kids because we werent planning on taking any sort of vacation this summer, so on a spur of the moment, we decided to go up to Utah...minus Bill. Poor guy had to stay here to work and study. I didnt really have a return date, we would just play it by ear. So off we headed to escape this blasted heat!!
Thanks goodness for having family in Utah. It makes for a fun and cheap vacation!! We stayed with Scott and Andrea and the kids loved every second of it. The only damper was that their little kitty, Mario, went missing and poor Claire was so upset about it. Scott spent most of his time driving around looking, but no kitty.
We didnt really have any plans, and that is just the way I like it. I just wanted to soak in every ounce of that perfect weather and just let the kids play with their cousins that we dont get to see so much. And that is just what we did. My mother in law jumped in and came with us but im not sure she enjoyed the "no plans" idea as much as me =)
There were a few things that the kids wanted to do while we were there so of course we hit up the dinosaur museum at Thanksgiving Point. We picked the perfect day to go because they were having a birthday celebration and had a lot of fun things for the kids to do.
Avery was having a lovely day, as you can tell.
Lia, Claire, Mason, Tyson, Avery and Caleb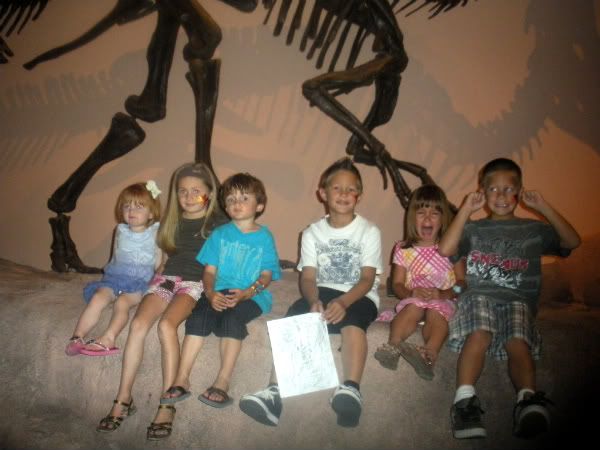 The kids making masks
They had some high school girls painting faces and the kids LOVED that. (high school girls who apparantly slept through art class)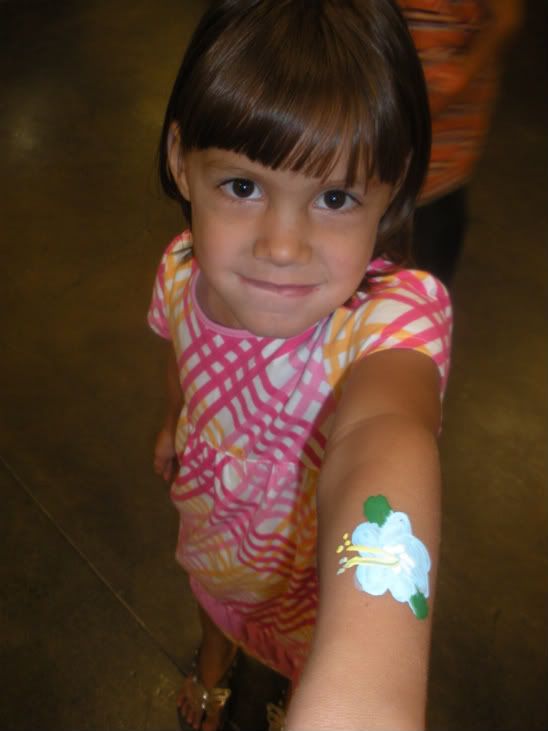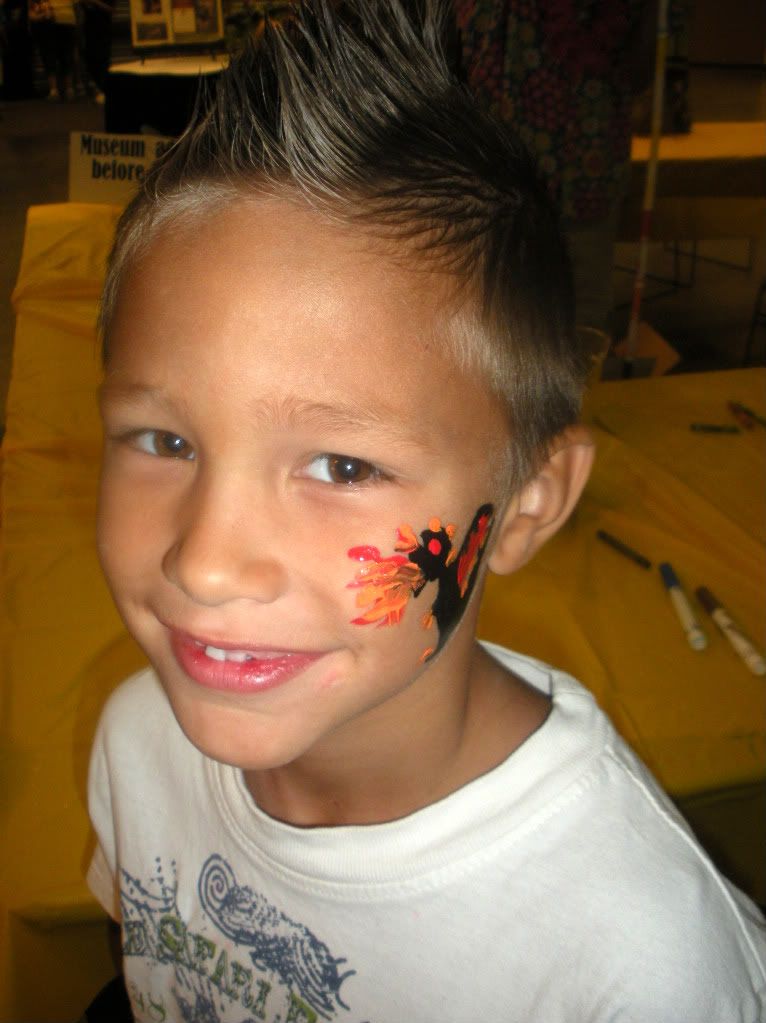 Noah was really happy about it all. He is really happy about alot of things these days =) Poor guy-not really into the "kiddie" things anymore




There is a cool new part that wasnt there when we lived there. Its a science-y type exhibit. All these cool hands on things.

This was a wall that took pictures of your shadow-I didnt quite get the shadows in my picture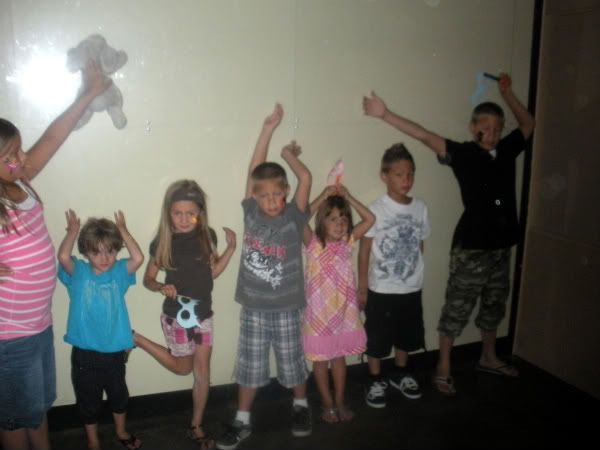 Tyson loved all the "hands on" stuff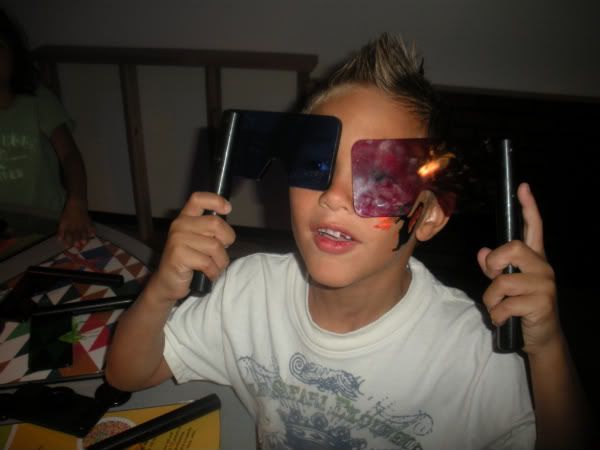 These 2 got sucked in to the computer trap. Mason knew exactly how to work that thing. Its amazing how early these kids learn how to manuver computers so well. I still cant figure it out-does that make me old??





Their favorite part is the sand tables. Big fun...Big mess. I hate the sand tables!!



If you close your eyes and put your feet in the sand, it almost feels like your at the beach. I guess thats as close as im gonna get. Boo.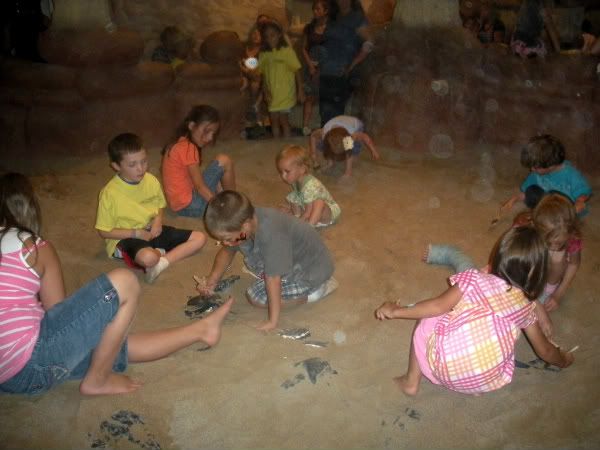 Tysons two front teeth had been loose for a month and he refused to pull them out. Scott was telling us how Claire wants the tooth out the second it gets wiggily and she wanted him to tie a string to the door to yank it out. Tyson figured since Claire could do it, he could.
I was freaking out the whole time. I didnt even think that really worked. Scott tied a string to his massive, heavy door and I held Tysons head. Scott slammed the door and out it flew. It was the craziest thing I have ever seen.
He still had the other front tooth to pull, but he decided to let his daddy pull it out when we got home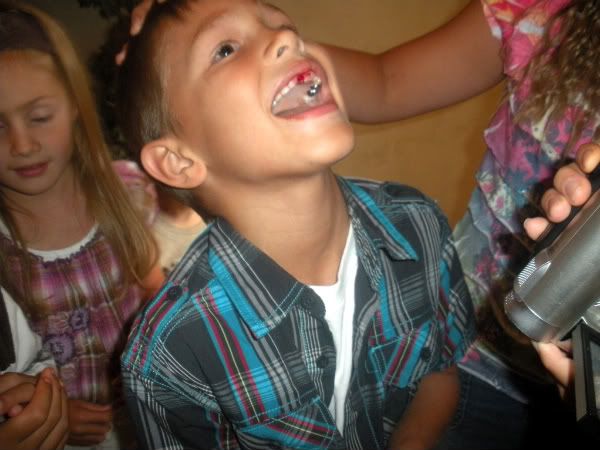 The kids still cant believe that it actually worked





He is one lucky dude-he got money from grandma and the the tooth fairy!!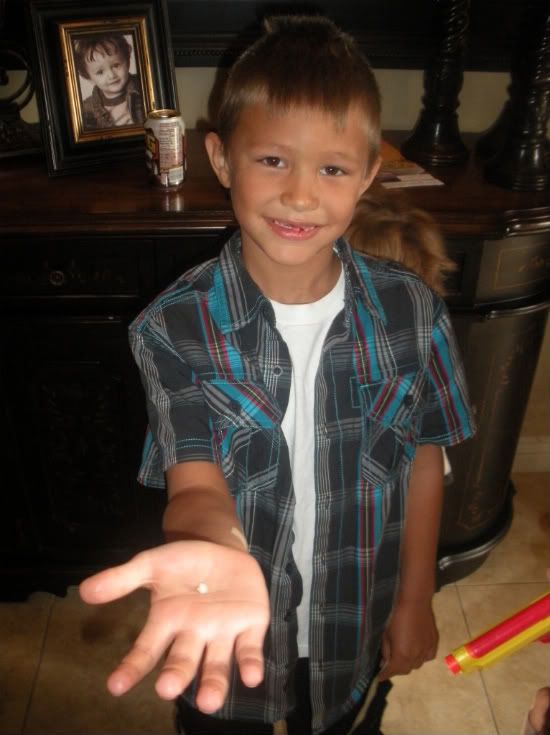 We went to the Mayan for dinner one night. We had gone there while we lived there and the kids loved it. Too bad it totally sucks now. I think it was sold and the new managment is horrible. The prices were double, the food was nasty and the show was lame. I dont think we will be visiting again any time soon.
At least I got a super cute picture of Avery out of it!!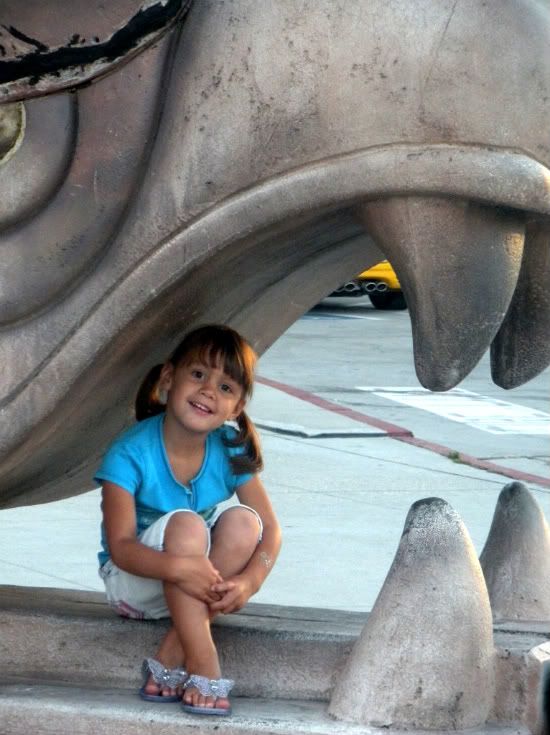 We all just crashed downstairs in their basement. Our schedules were all messed up and we didnt go to bed til like midnight every night and we slept in til like 9 or later...it was awesome!!
One morning I walked out and this is how Tyson was sleeping. Crazy boy!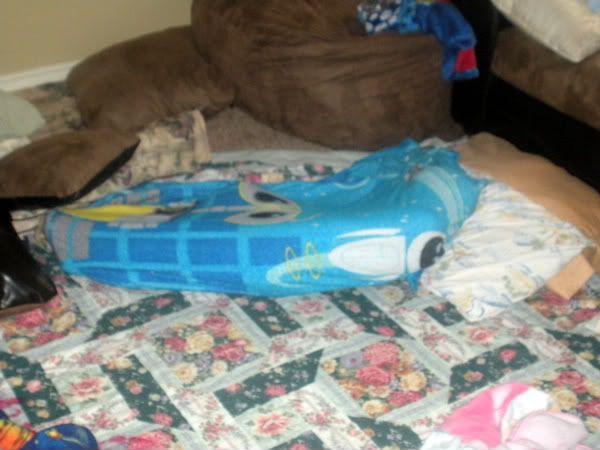 Scott and Andrea have a Mac computer and my kids were glued to it the whole time. Those things are so fun!!
I have a new item on my wish list!!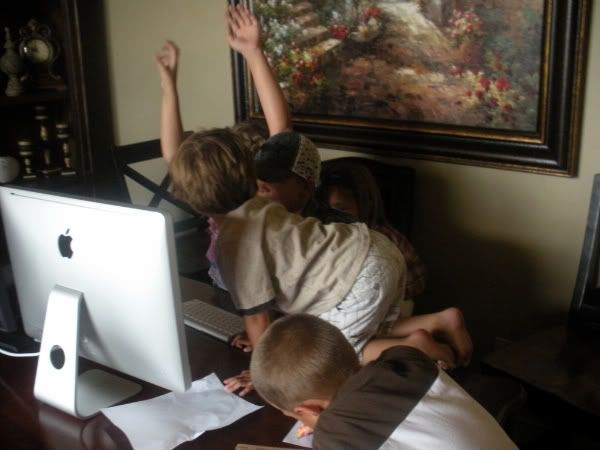 It was so cute how they all played together and made these funny videos of themselves and made the funniest songs on garage band. Im sure Andrea loved all the little videos left for them. Sorry guys!!



I loved that these 2 girls were such buds the whole time. And Avery loved having someone to play with. They played kitchen and house and had a picnic in the kitchen with Doritos.
Avery misses her live-in friend.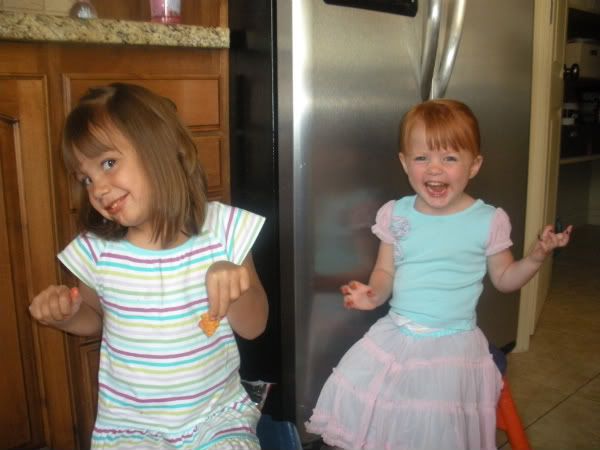 This is usually what every morning looked like, and every afternoon, and every night. These kids love those things. But those games are annoying-they are so small. We lost 2 of our favorite games while we were there.






On one of our last nights, we had a cousin sleepover. Bills other brother, Ben, also lives up in Utah, but he was camping with his wifes family for the first part of the week while we were there. Eli, their oldest son, is Tyson and Calebs favorite. They are the wildest pair of boys when they get together. Ben and Michelle just had a baby and he is the sweetest thing. Im so mad that I didnt get a picture of him but I dont think I put him down long enough to take a picture-he is so dang sweet..oh I miss him already.
This picture was like at 11pm. They all got their matching pjs and had a dance party on the trampoline. I couldnt resist snapping a few pictures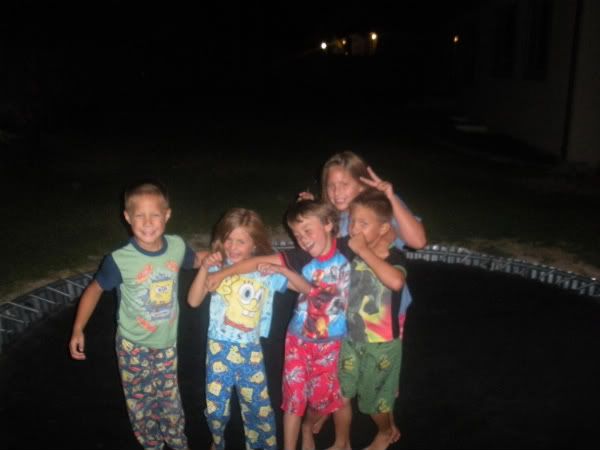 Tyson, Eli and Claire are only 6 months apart. Its so fun having cousins so close. Its too bad we dont live by eachother. Bummer!!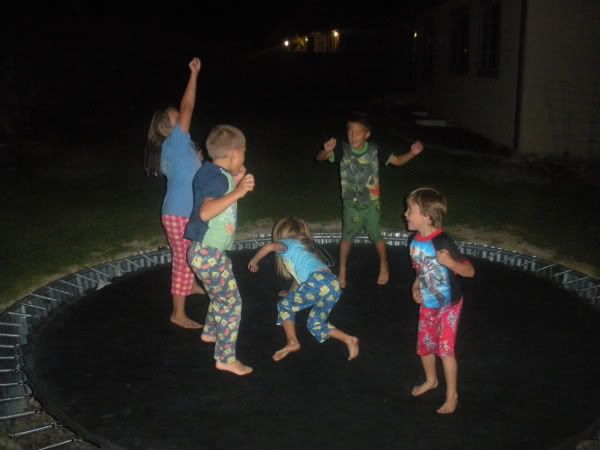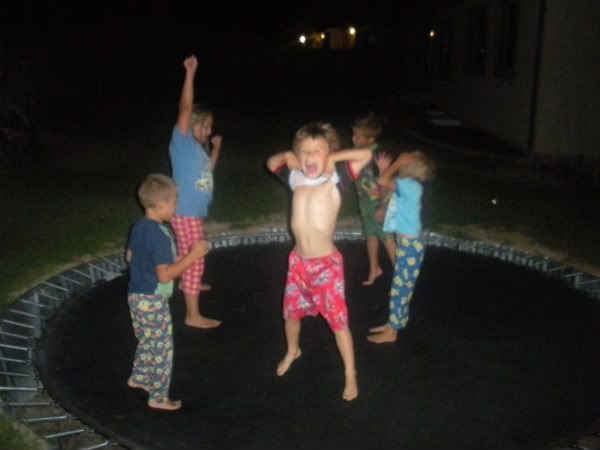 We really had a fun time. We also went to a new waterpark called Cowabunga Bay. It was really fun and the kids loved it. We got hit by this crazy wind storm and the sky got really dark and it started lightning. Luckily, it happend towards the end of the day so we were ready to go home anyway. Swimming in Utah just isnt the same as swimming here...its too cold!!
We also saw Despicable Me...soooo cute. if you havent seen it, go see it!!
Scott watched all the kids one night so Andrea and I could have a girls night. We went and saw Eclipse(for the second time)and it was just as awesome as the first time!!
One of the funniest things happened on the first night we were there. My boys are huge sleep pee-ers. They get kindof disoriented and cant find the bathroom. Luckily, Caleb woke up while I was still awake. He started peeing in the corner of the room and I grabbed him and ran to the bathroom. He never holds his junk-he just lets it go wherever. I told him to hold it and he was kind of pinching it and making it go all over so I tried to move his hand and he let go at that exact moment and he pee'd all over my face...and I had to stand there and hold it down for him until he was done peeing. I literally had pee dripping off my face and hair. Awesome. I looove mom moments like that.
Anyhoo....
Fun trip..good weather and even better company. Thanks Scott and Andrea for letting us intrude for a week!!!