I am so far behind on the blogging front. I just cant seem to get my crap together! I think about it all the time, but I can never seem to find the time to do it. So, I just decided to do a major blog post about all the random pictures I have taken over the past few months. I was super lazy this summer and didnt take hardly any pictures. I guess we really didnt do much this summer anyway. We are extra lame, I know. Bill has had to take so much time off of work for all my surgeries and all the crap that comes with cancer, that he was pretty much tapped out for days off at work. Soooo, we just hung out here. Lame.
So here are just a few random shots of our lameness. I love that word. Lame.

What do you do when its 1000 degrees outside and you dont have a pool?

You swim in your grass!!!
Betcha didnt know you could do that!!
The grass was dying for some strange reason, and we thought a sprinkler might do the trick. The kids loved it! Such cheap entertainment!
The only thing is the yard is slightly slanted and all the water went to the one side of the grass and made a huge puddle. Tyson and Caleb thought this the perfect opportunity to swim!

And chase eachother with random objects from the backyard trash pile on the side of the house! Isnt it funny how things that you thought threw away just keep finding their way back?



I love this pic!! It shows off the nice tan they get each summer. They definatly got their daddys good skin!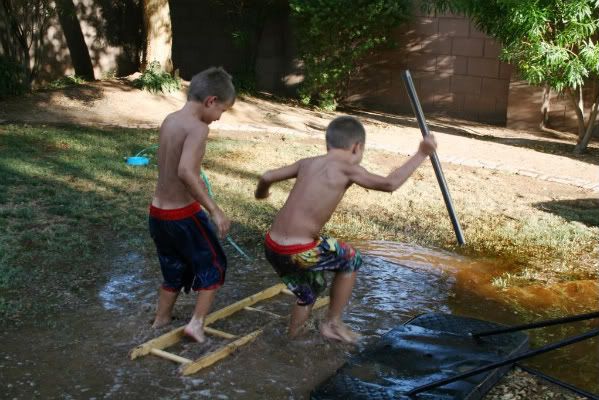 Leave it to the boys to find the grossness from a stream of water. Look Mom!! Look how funny I am! Im peeing!
Nice!


That is my 11 year old pretending to dance in a fountain. Sweet!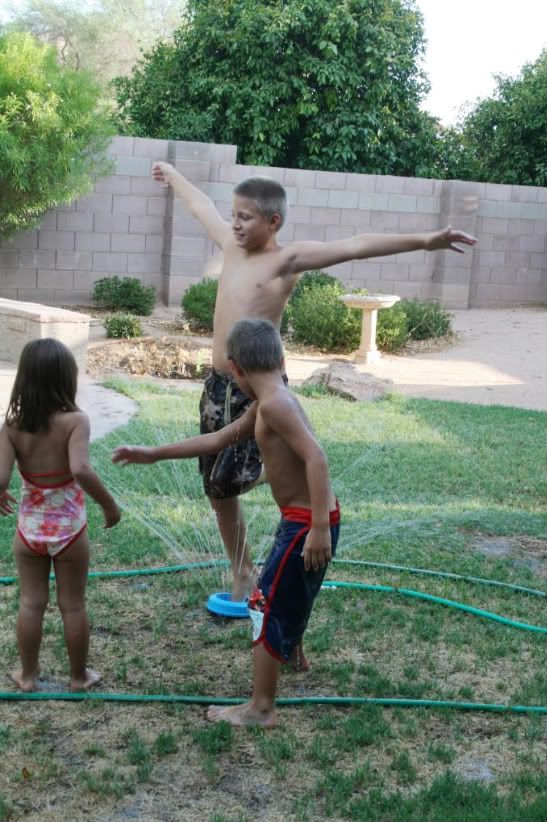 And the best part of playing in wet grass and mud...The nice cleanup!





I did try to have some sort of schedule this summer. We had "make craft Mondays", "take a trip Tuesdays", "wet Wednesday", "whatever goes Thursdays", and "movie Fridays"(we had summer movie passes). Most of the time we stuck to the plan, but most of the time we didnt! Anyway, we had lots of down time when there was no TV or video games allowed. Having a lot of time to sit and think, Caleb decided he wanted to earn some money. He didnt want to do a lemonade stand because it was too hot to sit outside. So he got dressed up, grabbed a bag and filled it with random toys and said "Ill be back later Mom". I asked him where he was going and he said he was going door to door to sell his toys to kids. Ahh, how cute is that!!
He lasted about 5 minutes before he was home ans sweating buckets. I asked him how it went and he said "its too hot outside to sell my toys..Im done with this"!! So dang cute! I guess we have a lot of salesman that come to our door-I have no idea where he got the idea to dress up. This kid just melts me!


I love these pictures because it looks so nice and cool, but in reality it was like 110!
I think we were watching a movie and we were listening to the thunder. All of a sudden it started to POUR!! Most of the kids ran to get their swimsuits on, but not Noah, he just ran out fully clothed.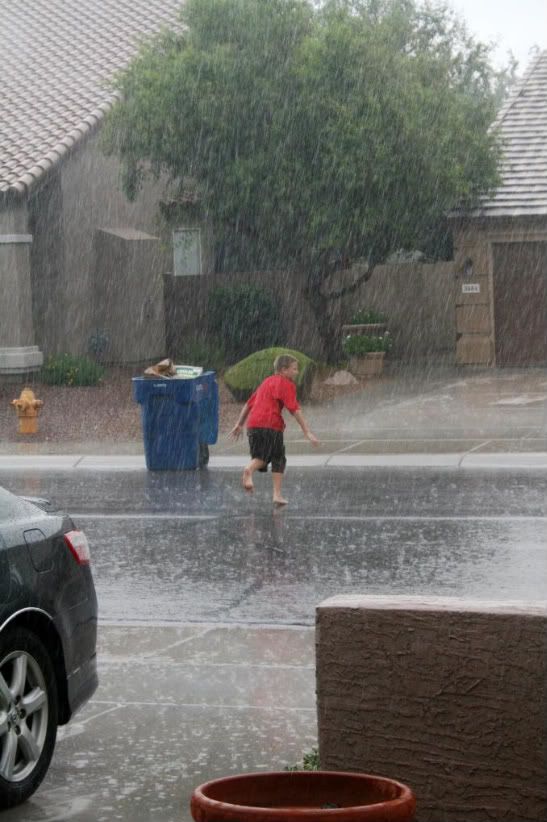 We arent white trash at all!!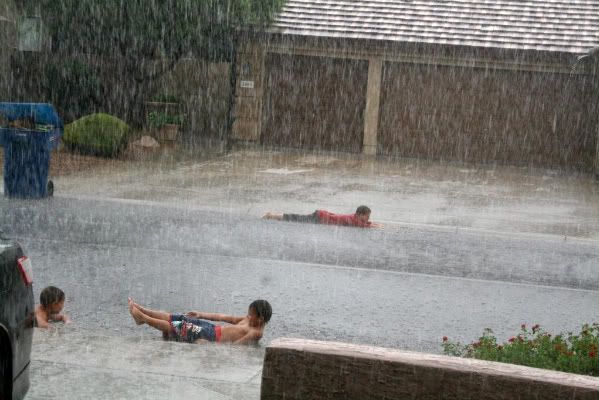 Little miss Avery was scared of the thuder so she stayed close to me! This is as far as she would go.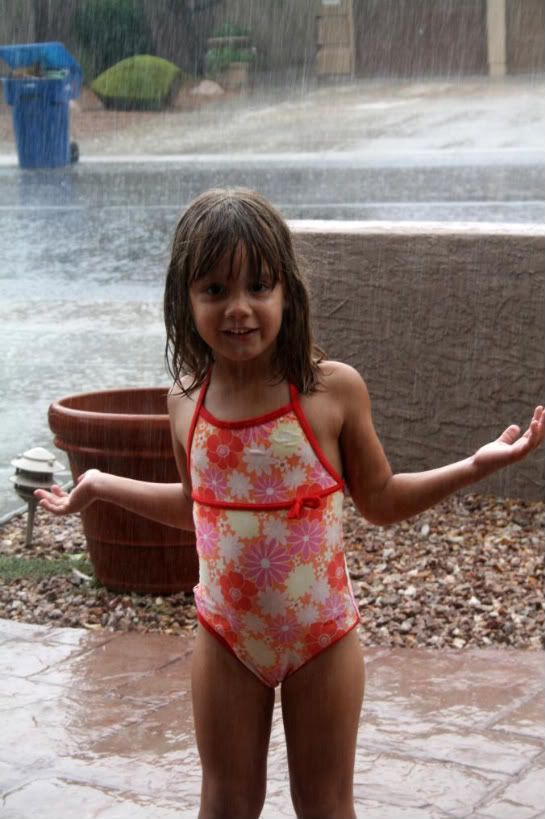 These two were in HEAVEN!!


Once Lani started jumping on the tramp, it was all over. The boys thought that was the coolest thing ever. They ran from the front to the back so fast!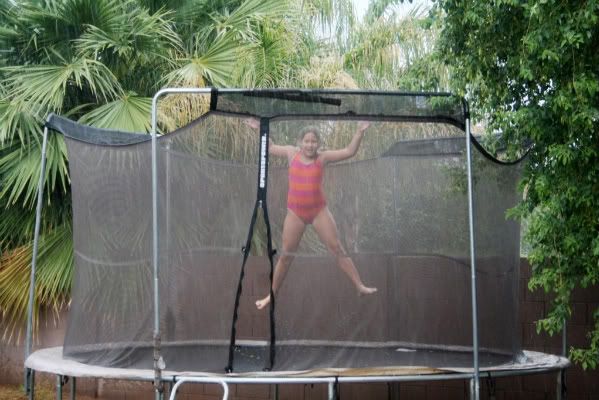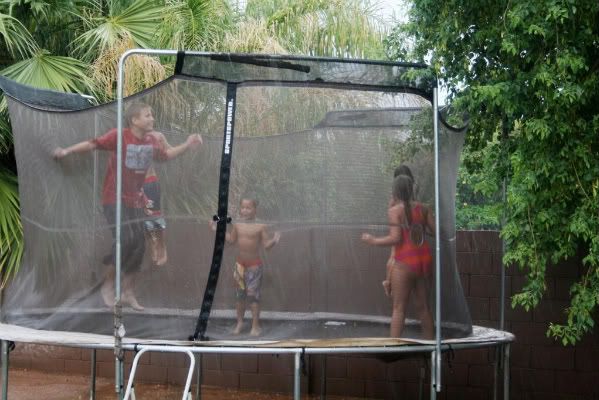 I cannot believe how much it rained. There was some serious gutter run-off




I think the monkey felt a little more comfortable in the backyard. She had so much fun playing in the rain!



Why not throw in a game or two of some water b-ball?


Fun times in the rain!!


Target is my favorite place in the world. On our weekly outing to Target, the boys found these shirts..and they were on sale...YAY!! (super sarcastic)
Time to cut back on the video games!
They thought they looked so cool!!


And look what has made an apperance once again...the froggy costume returns!!
Its on Avery as I type this.


We did take one family trip this summer. Nothing big, but we had a lot of fun!
We went back and forth between a hotel staycation in Phx or Sedona. I was all for the Phx waterpark hotel idea, but Bill wasnt having it, so Sedona won out. We found a good, cheap hotel about 10 minutes outside of Sedona and it was actually quite nice! The room was just big enough to fit all 7 of us. It had a king bed,a hide a bed in the couch, and big flat screen and a kitchen. And a cheezy little pool that we swam in for about 30 minutes.
The weather was awesome! It was a nice little escape from the heat.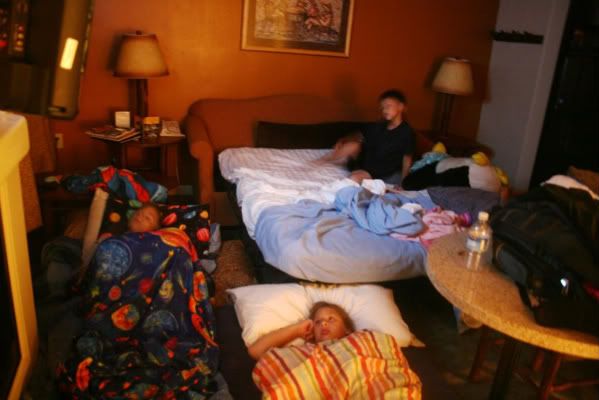 Cardinals camp was starting that weekend and Bill wanted to head up there. Yay!! (again, super sarcastic)
We took a scenic route and it was gorgeous! We stopped and checked out a few of the scenic things.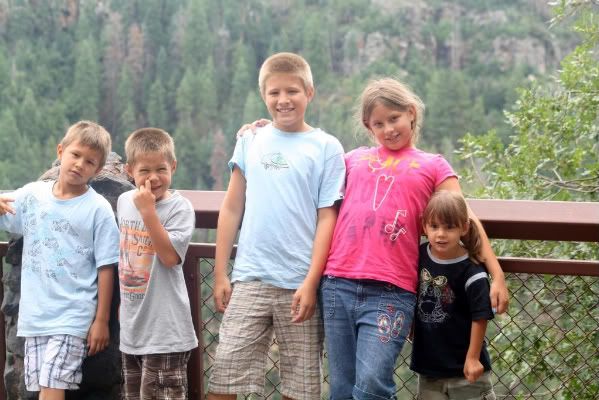 My kids were looking super awesome! Im not really a "get ready to travel kind of gal"


I loved this pic of Avery.
Avery loves to dress up. Mostly in princess gear and fru fru skirts, but every once and a while she likes to dress like the boys. Whatever, it doesnt really bother me, but she chose to have this dress up phase the day we left for Sedona. She wouldnt change for nothing. I figured since we were going to be in the car whats the big deal?
Well, the big deal is that she wouldnt change her clothes the entire time. Oh well, we didnt know anyone..who cares! Im not gonna let her become Shiloh Pitt or anything and im lucky that this phase comes and goes!


Noah got in trouble for something, I dont remember, but he was in a bad mood and didnt want to take a picture. Caleb sucker punched him in the gut and he dropped to the ground. Noah is drama. He loves to over react. This picture is so funny because Noah is on the ground and the other kids are laughing at him. Sad, but this is how it usually is. Noah is sensative to say the least.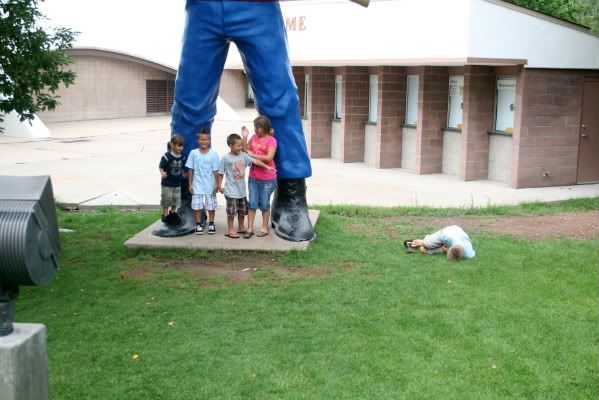 I finally got him to take a picture but he was NOT going to be happy about it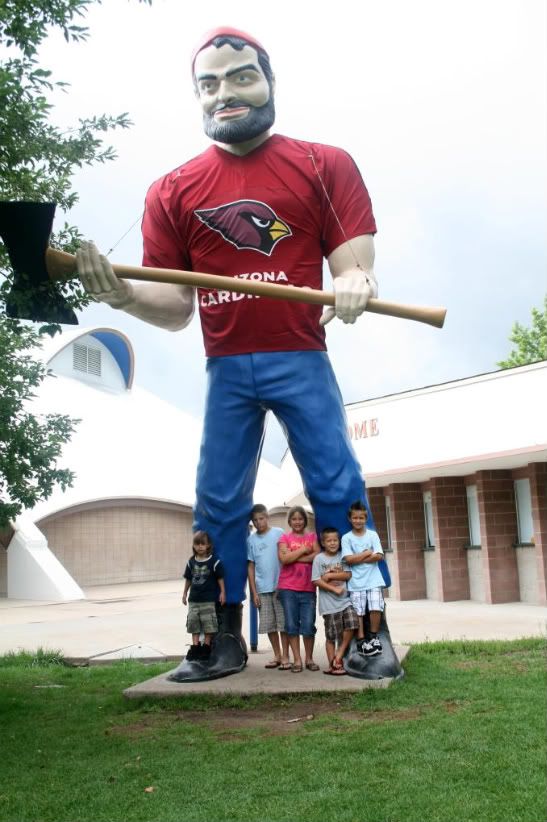 The other kids tried to make him happy, but it just made it worse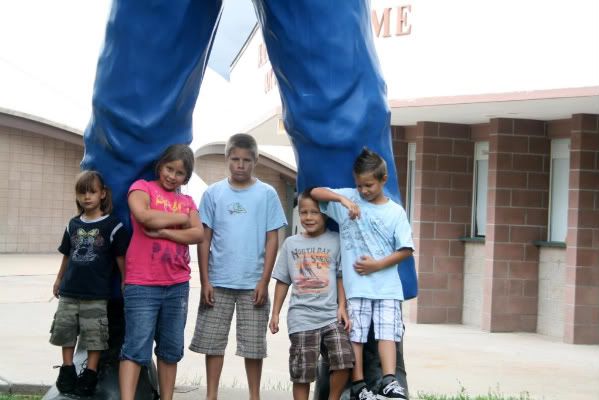 Hilarious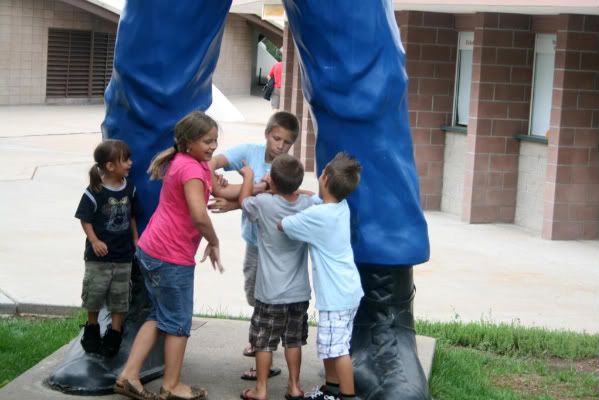 And here is the extra boy we had with us that weekend(Calebs clothes and old shoes)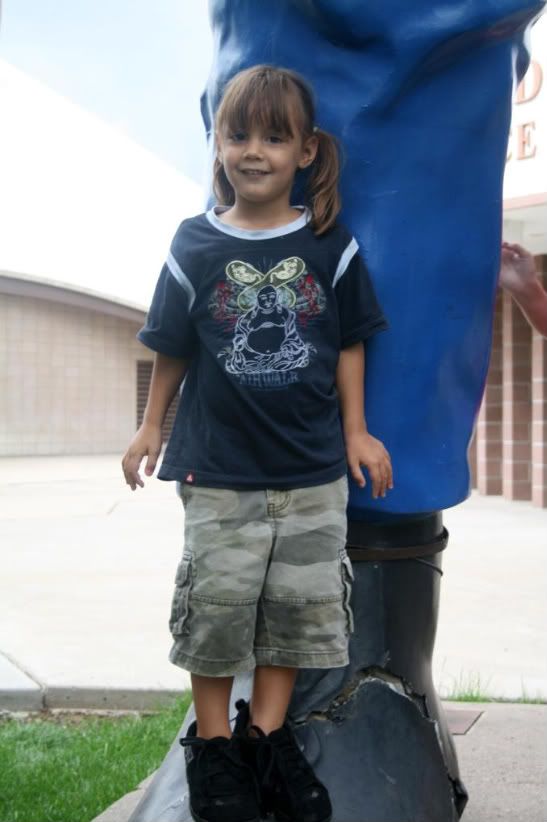 Shes lucky shes so cute!!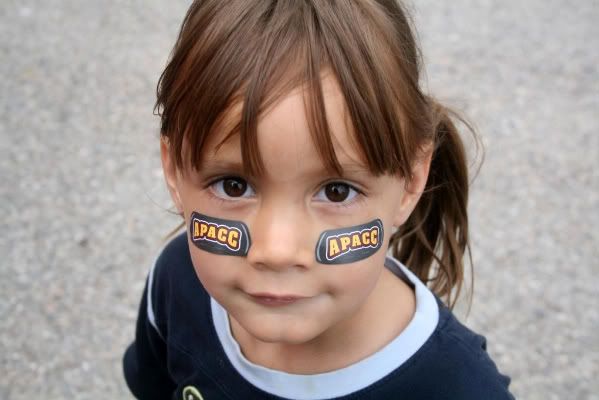 This is Calebs new favorite face. He constantly makes this face...especially when hes in trouble. He knows it makes me laugh.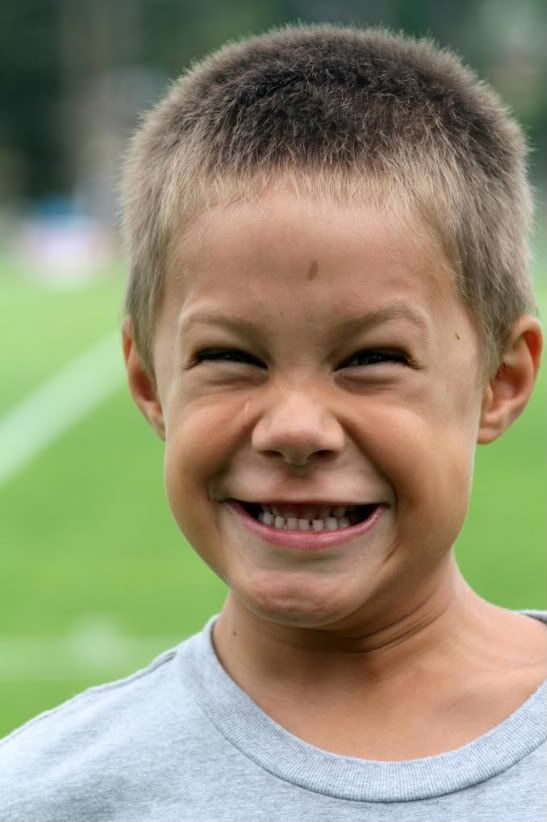 The boys did the obstacle courses.


The kids took advantage of the big green hills and took turns tumbling down.
Avery was non stop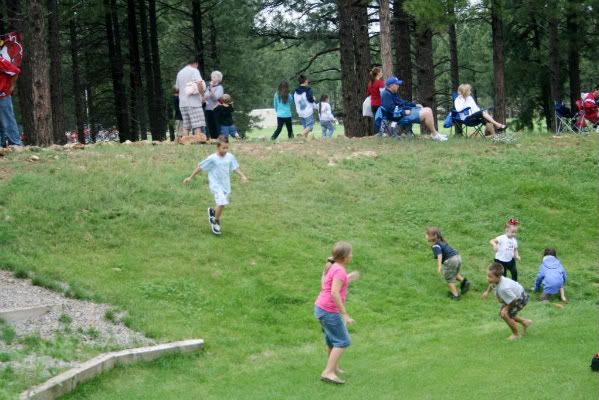 Caleb and Avery tried out the kickers game. Caleb had some awesome form, but the ball didnt agree with his foot.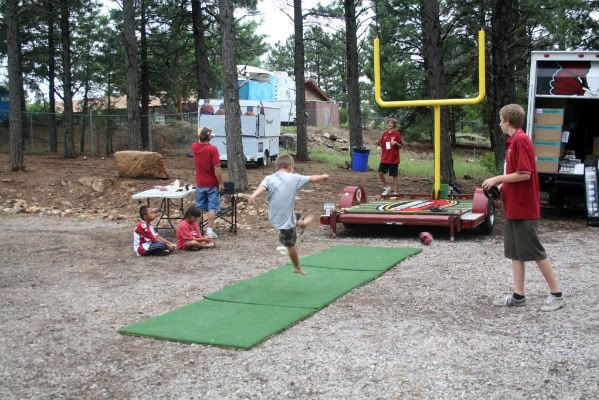 Good try Bopps!!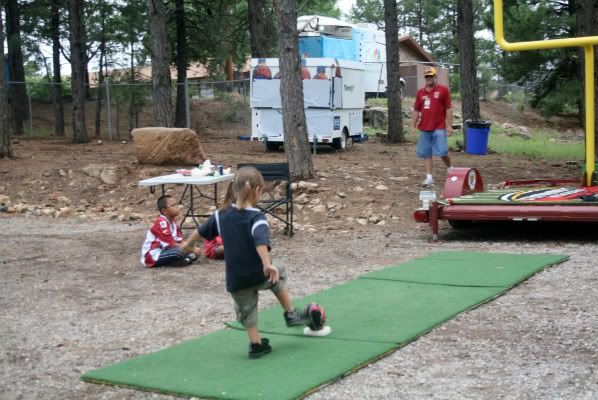 I have been lucky in the "kids getting into things" department. I dont have any crazy stories of kids getting into things and making huge messes. My kids just make huge messes all the time! Caleb, for some reason, thought it would be fun the dump rice out of the bucket and make designs or something out of it...who knows what he was thinking. I sure made him clean up every ounce of that rice.


It was seriously EVERYWHERE!! Thank goodness for vaccumes!!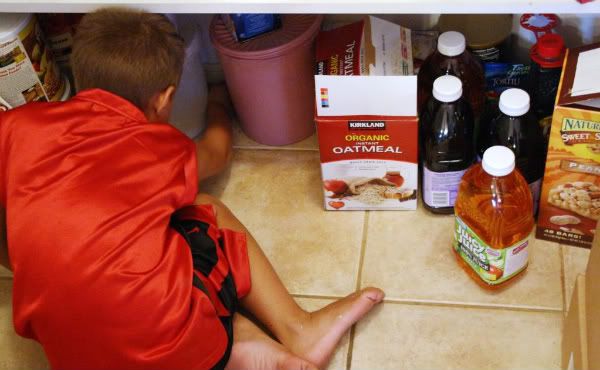 Tyson and Caleb both wore black to school one day and when they got home, they talked Avery into dressing like them. They think its so cute when she dresses like a boy. They also think that if they wear black, its makes them ninja spys.
On this day, they wanted to wait for Bill outside. They all looked so cute in their black outfits sitting on the fence...I just had to take a pic.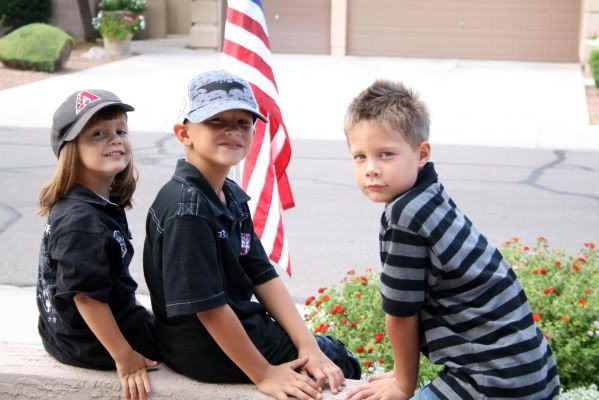 Love the knee pads Ty. Nice touch!


I just started taking random pictures to test out my lighting and I snapped this one. It wasnt until later that I realized how cool this pic was. This day was September 11th and the back of her shirt says New York. Not planned at all, but super cool.